Buckminster Fuller called himself Guinea Pig B. His life became an experiment in discovering how one person could have the greatest impact. On his gravestone are the words, "Call me trimtab."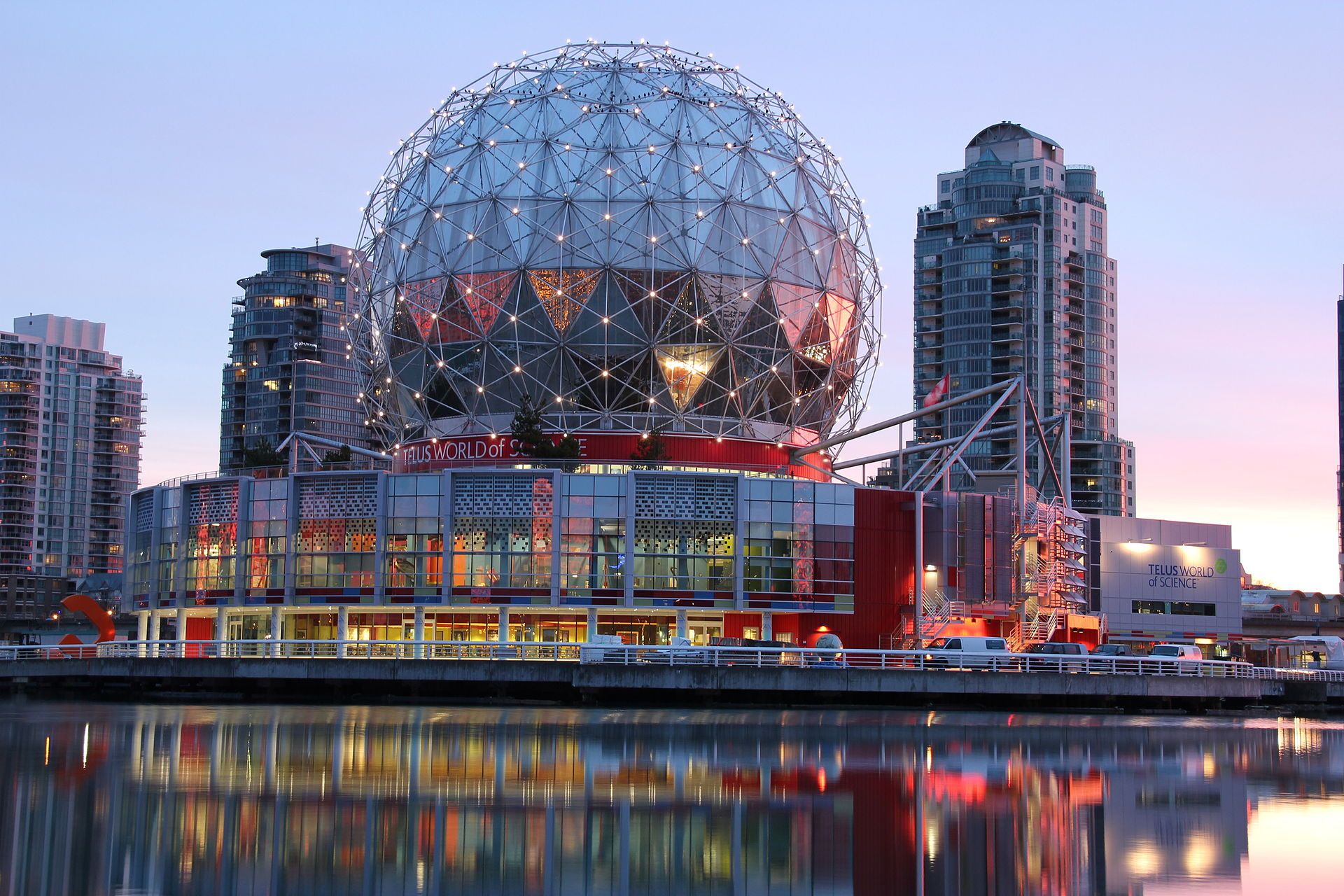 Last week, I received an email newsletter from the Buckminster Fuller Institute.
BFI TrimTab Vol. 23 No. 1: Final Chance for Space Camp, DSS Salon, Climate Science for Youth, New Store Items, and We're Hiring!
I was curious. What sort of position are they hiring for?
We're Hiring! Join Us as a Community Builder & Systems Designer for the Co-Operating Manual for Spaceship Earth
The Buckminster Fuller Institute is putting out our last call for applicants for a Community Builder and Systems Designer. All applications are due by midnight, Saturday, January 23rd.
The Community Builder and Systems Designer will design and execute the launch of the Co-Operating Manual, engaging our global community and amplifying BFI's reach. This is your opportunity to join the BFI crew in helping to "make the world work for 100% of humanity in the shortest possible time."
Apply Today
Then I scrolled further and saw my face featured at the end of the email.
New Posters in the Dymaxion Marketplace
We're thrilled to feature designs from the Design Science Studio in a new poster series, including Stephen Bau's Mental Models for Human Experience.
Stephen has portrayed three models for human experience, based on the values and aspirations that are at the core of each social system:
Collaboration
Competition
Utopia
These models combine UX designer Jesse James Garrett's conception of human experience with cognitive science and the design process to illustrate how values are the inputs and social systems are the outputs. A social system's core values determine the social architecture. Colonialism, capitalism, and climate change are logical conclusions if the values are based on the self, fear, and greed because of a perception of a world that is a brutal, dangerous, and life-threatening environment where people are in an existential competition for scarce resources in a social Darwinian fight for survival and dominance.
// The Artist: Stephen Bau
Stephen is exploring how we imagine, design, and build the future together. He founded Builders Collective to build leaders to design a resilient society. He writes about the evolution of design at stephenbau.com.
Synchronicity
Hmmm. I wondered, how did these two ideas end up together?
I reached out to Roxi Shohadaee to ask what she thought about me applying for the position. I had a meeting with Ilaria Forte to discuss the possibility of working with her on the Experience Room ER+ project. Ilaria brought up the idea, nomen est omen. I said, that was interesting, because that is what Ganga Devi Braun asked me. Have I heard of nominative determinism?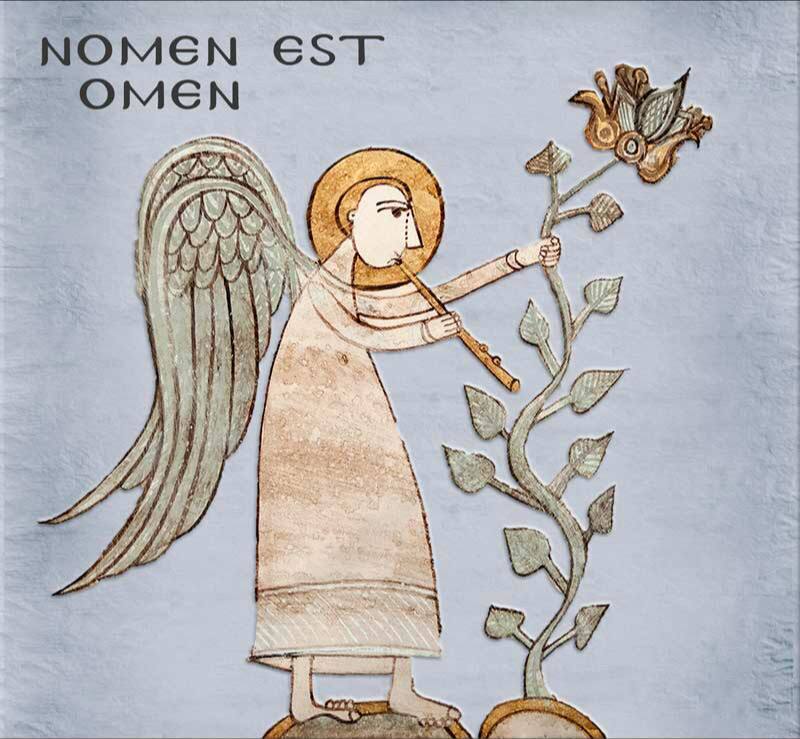 I met with the Trimtab Book Club on Saturday and mentioned the idea. Daniel Friedman said that it sounded like me.
So, on the day of the deadline, I spent the day thinking about how I would apply for a position like that. I thought about submitting a cover letter that went beyond the usual format. I was inspired by the style tiles that I collected on Pinterest to share with some of my Designlab students.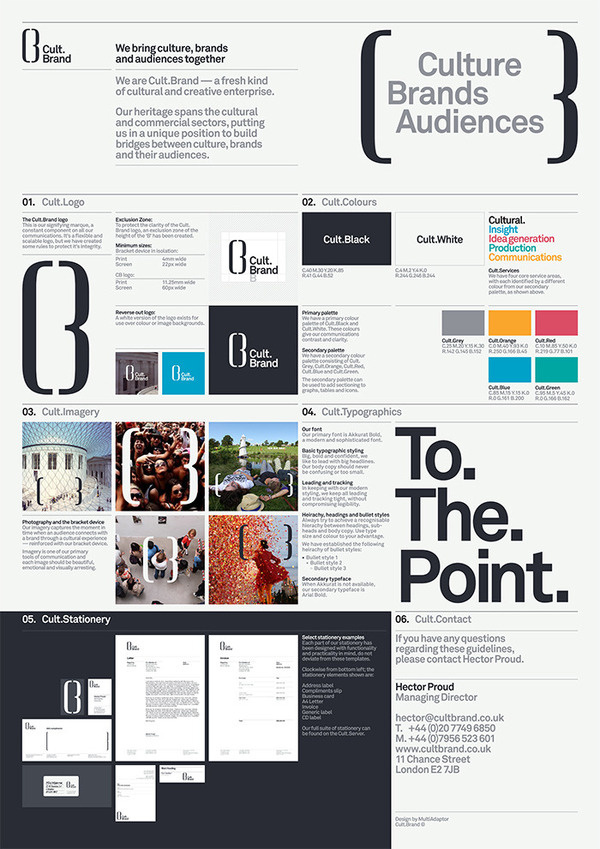 I researched the Buckminster Fuller Institute brand and discovered a project by Meredith Morten that she shared on Behance.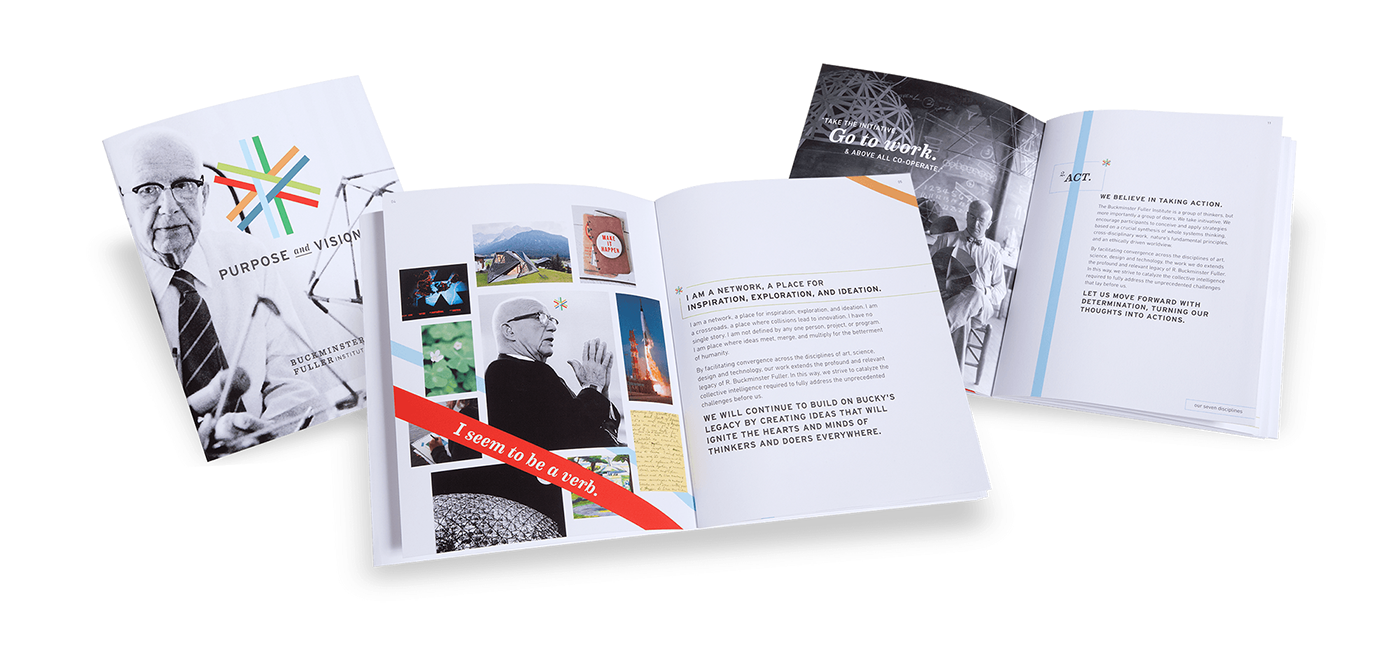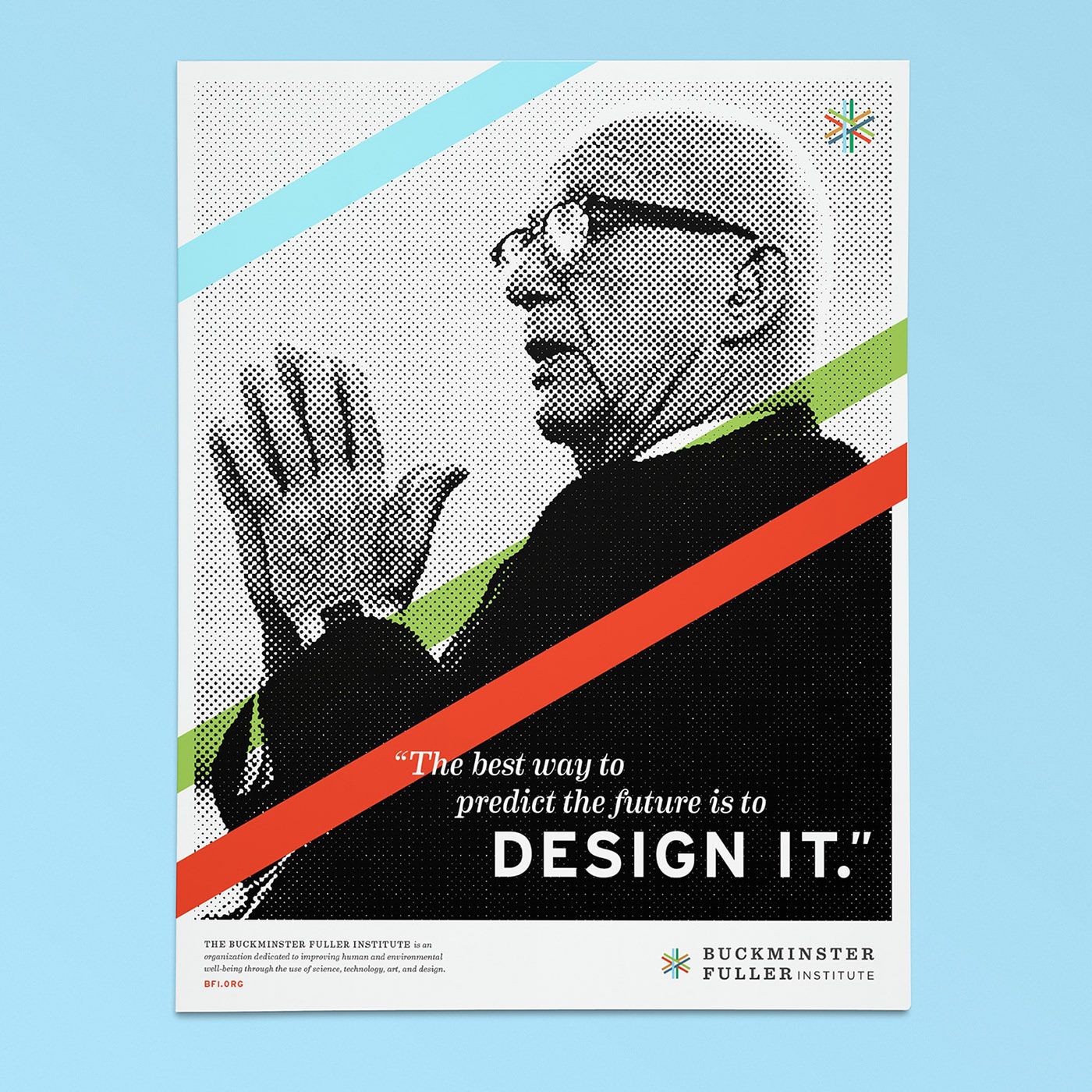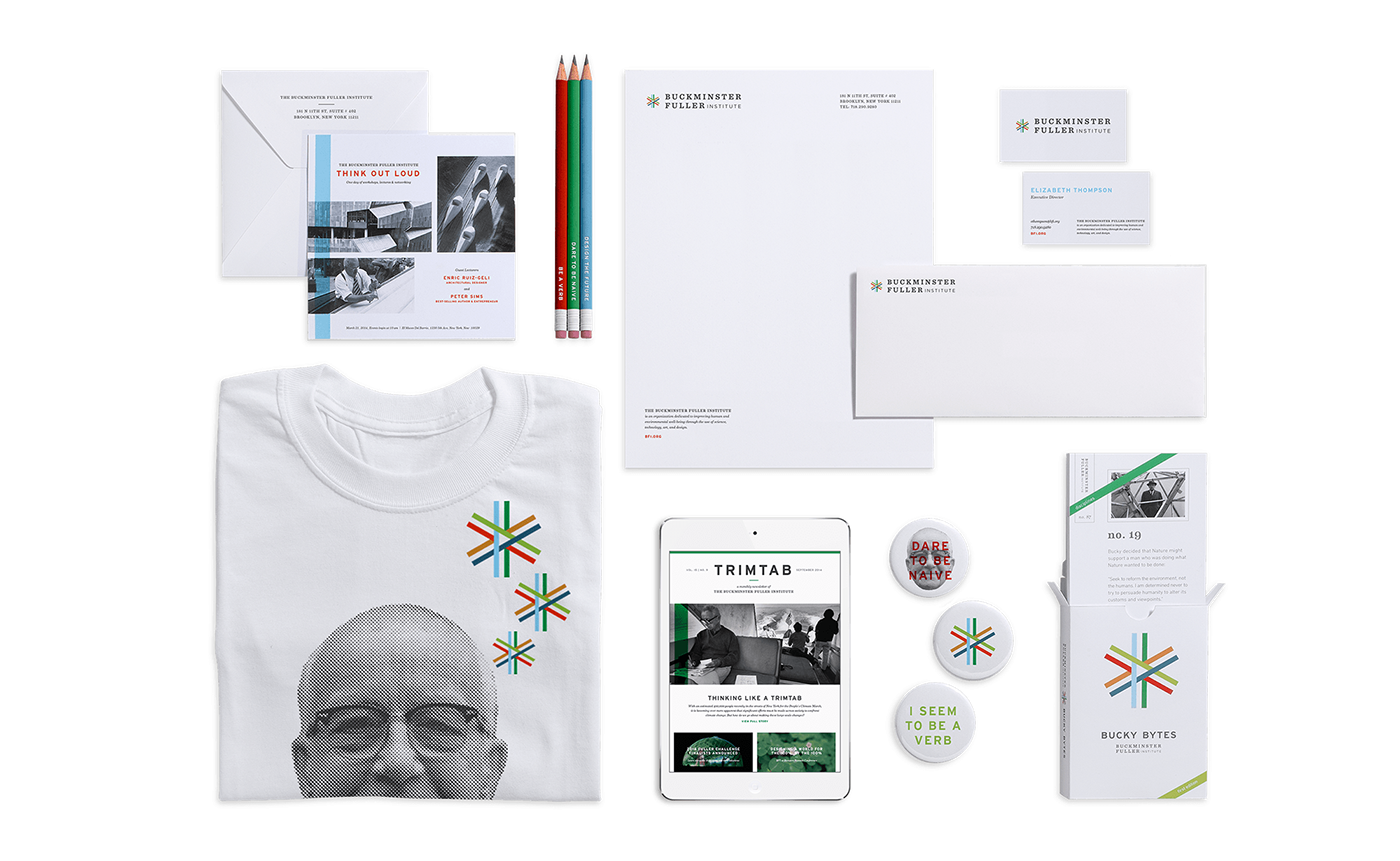 Nominative Determinism
Synchronicity is a concept, first introduced by analytical psychologist Carl Jung, which holds that events are "meaningful coincidences" if they occur with no causal relationship yet seem to be meaningfully related. In 1952, Jung published the paper Synchronicity: An Acausal Connecting Principle, and alluded to the possibility that there may be a suggestive effect to names. Apparently, Jung was impressed that Sigmund Freud's surname meant joy, as his psychoanalytical colleague studied pleasure.
In 1994, the British magazine New Scientist went somewhat further. It posited the argument that people actually gravitate towards jobs that reflect their surnames. They called this process "nominative determinism" and suggested that there is a subconscious imperative that impels one to find a job that fits one's surname. Readers were asked to supply examples of this process and as a result, New Scientist was inundated by hundreds of "proofs." In 1998, New Scientist resurrected the controversy when they quoted the following underwhelming statement in Lawrence Casler's article "Put the Blame on Name," which appeared in the journal Psychological Reports in 1975: "There is a determinant whose effect may not be phenomenal but is probably more than nominal, namely the name."
With a two-page cover letter, I tried to communicate the synergy between my life's work and the work of Buckminster Fuller to communicate the center of gravity, the force that holds everything in tension as synergy in constant motion.
Community Builder & Systems Designer
Buckminster Fuller was a man ahead of his time. Part engineer, part designer, part philosopher, Fuller believed that any global issue—from pollution to poverty—could be solved. Through collaboration and ingenuity, Fuller believed in creating a world that works for everyone. This philosophy is at the core of the Buckminster Fuller Institute's mission.
Since its founding in 1983, the Buckminster Fuller Institute (BFI) has championed the vital role of whole-systems thinking and design in successfully navigating Spaceship Earth into the future. Beacons of endless possibility, BFI's educational programs, convenings, and media productions have attracted a worldwide network of people and partners. For the past decade, the Institute has identified and supported initiatives that demonstrate comprehensive strategies "to make the world work for 100% of humanity" through the internationally acclaimed Fuller Challenge.
We are a small team of highly committed people, working to make a meaningful difference in the world. Building from these successes and the global community that has gathered, BFI is entering an exciting new phase of its evolution, launching the Co-Operating Manual for Spaceship Earth.
The idea is to create a knowledge wiki database, a navigable hive-mind of resources on cooperation. The database will be co-created, with a core team of curators and endless numbers of volunteers to maintain it and keep it up to date, inspired by the Wikipedia model. It will be comprehensive and creatively taxonomized wiki cataloguing our collective intelligence around societal transformation toward cooperation and curating a diversity of resources—articles, media, frameworks, case studies, practices, organizations, videos, games, visualizations, and other tools that help humanity step into a future where cooperation with each other, nature, and ourselves reigns. Our vision is to build a world where everyone thrives, a world that works for 100% of life, overflowing with both biospheric and cultural abundance. This future is based on social justice, mutual aid, humans catalyzing nature's innate ability to regenerate, and other forms of cooperation and equity.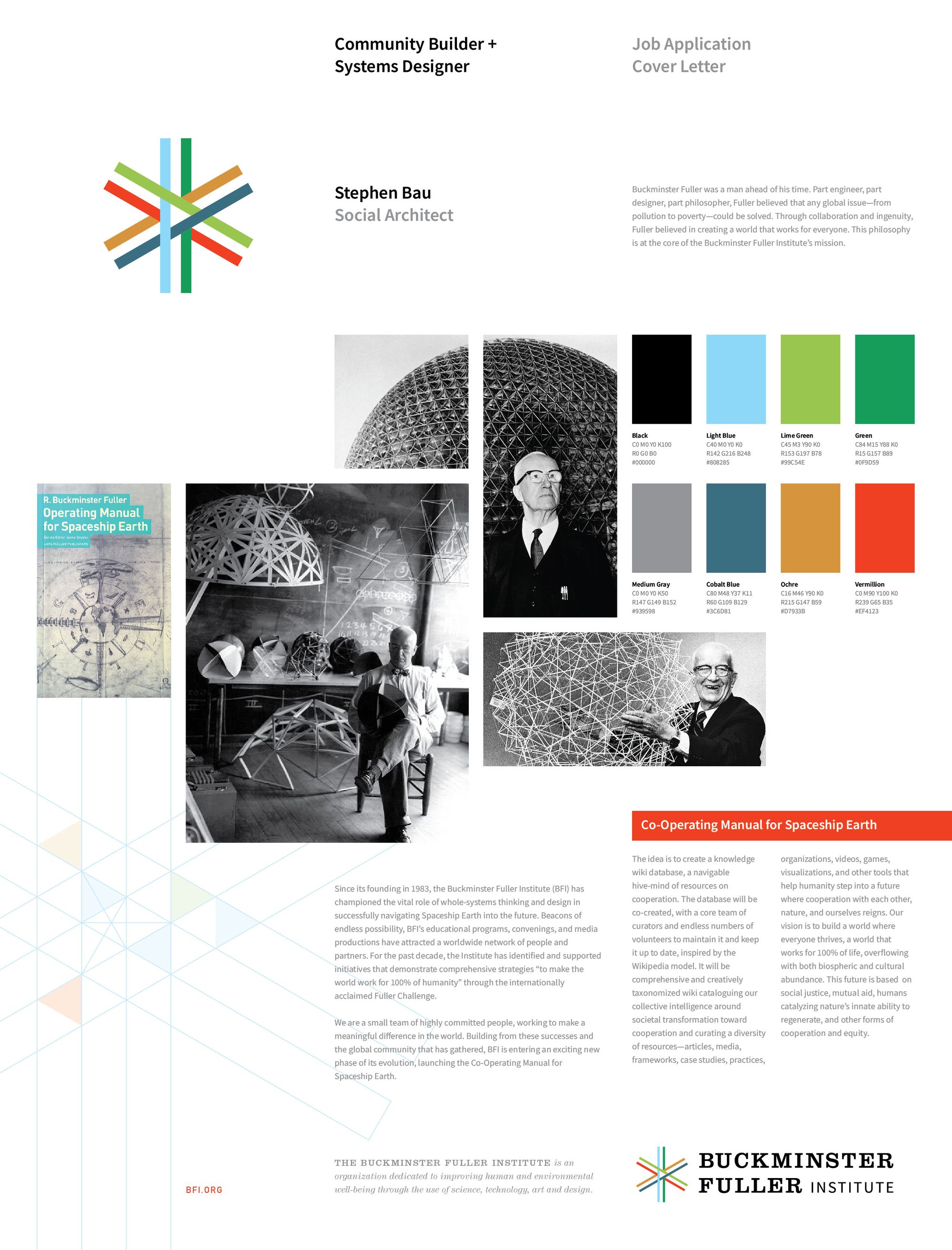 Stephen Bau, Social Architect
I am exploring how we imagine, design, and build the future together. I founded Builders Collective to build leaders to design a resilient society. I write about the evolution of design at stephenbau.com. I work as a mentor for UX Academy at Designlab.
As a social architect, I am observing the metaphysical and linguistic connections to the physical infrastructure of our living systems. By understanding the connections between perception, cognition, emotion, and action, we can become aware of the metaphysical limitations, abilities, and responsibilities within the physical environment that defines our interdependent relationship to Universe. By naming and visualizing Universe's properties and processes, we create mental models as prototypes of adjacent possibilities in order to build regenerative processes for living systems.
Synergy
To design solutions to systemic problems, we cannot design incremental solutions. Buckminster Fuller gave us language to think about synergy, to consider the parts in the context of the whole.
I have been exploring how to build the skills and experience to contribute to the work of building a world that works for everyone as a front end designer, web developer, writer, educator, and UX design mentor. Through my experience as a member of the Design Science Studio and the Living Systems Collaboratory, I have added experience coordinating and hosting events, leadership and facilitation. I would be excited to collaborate with the BFI team and community to realize the vision of developing the Co-Operating Manual for Spaceship Earth.
World Building
The builders collective is documenting a community into existence. For the past 30 years, I have been exploring the process of world building through design, inspired by the Bauhaus. What I have been recognizing through the Design Science Studio and the Living Systems Collaboratory during 2020 is that the world building project that I am exploring stretches back to the origins of Universe and of time, energy, and matter, the formation of galaxies, stars and planets, the formation of life, the emergence of sentient life, the formation of language, social identities, and nations, and the formation of technologies and global systems for social, economic, and political organization. However, I have only recently discovered language that helps clarify the process of change that we are all involved in as an interdependent and interconnected living system.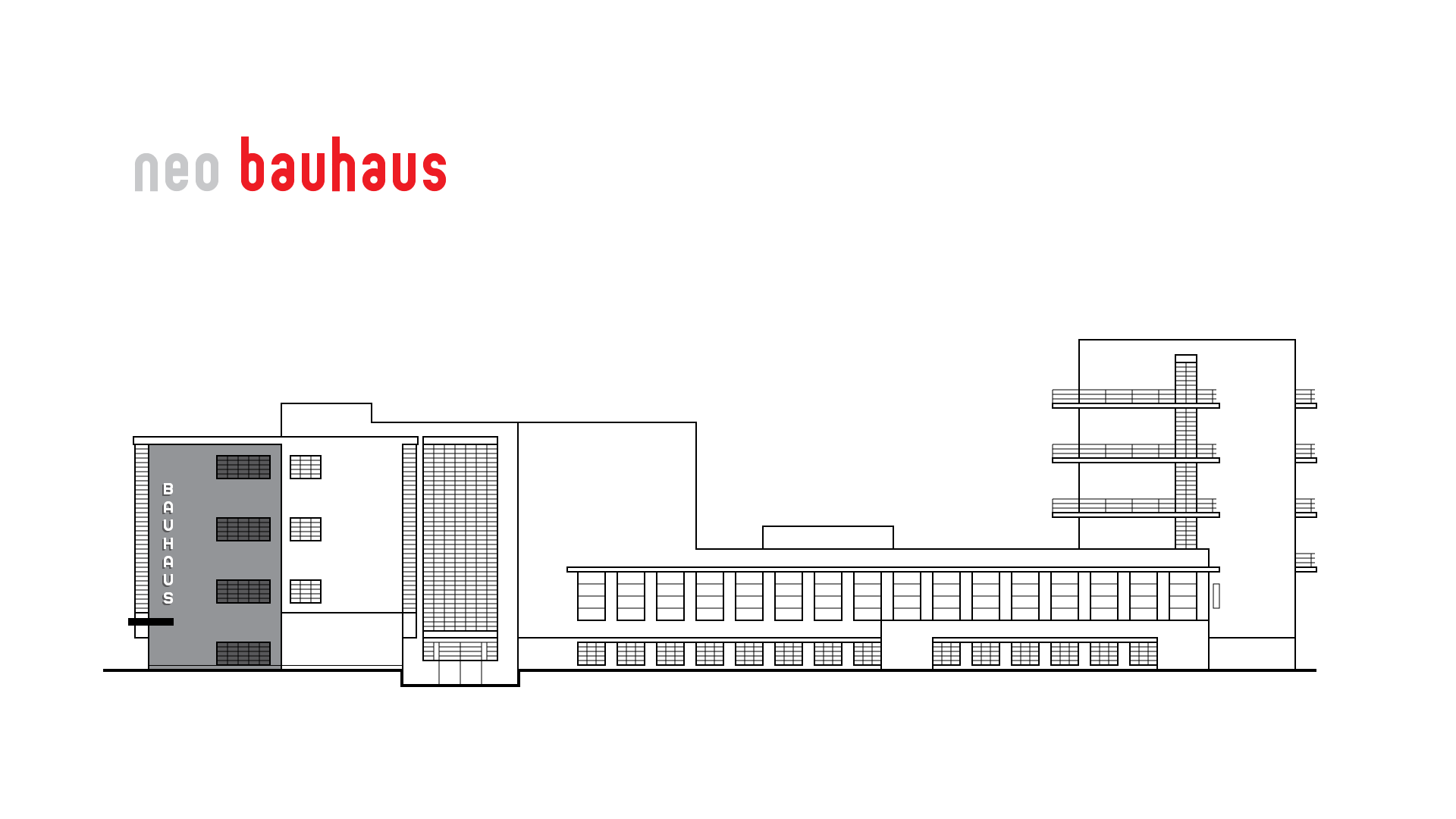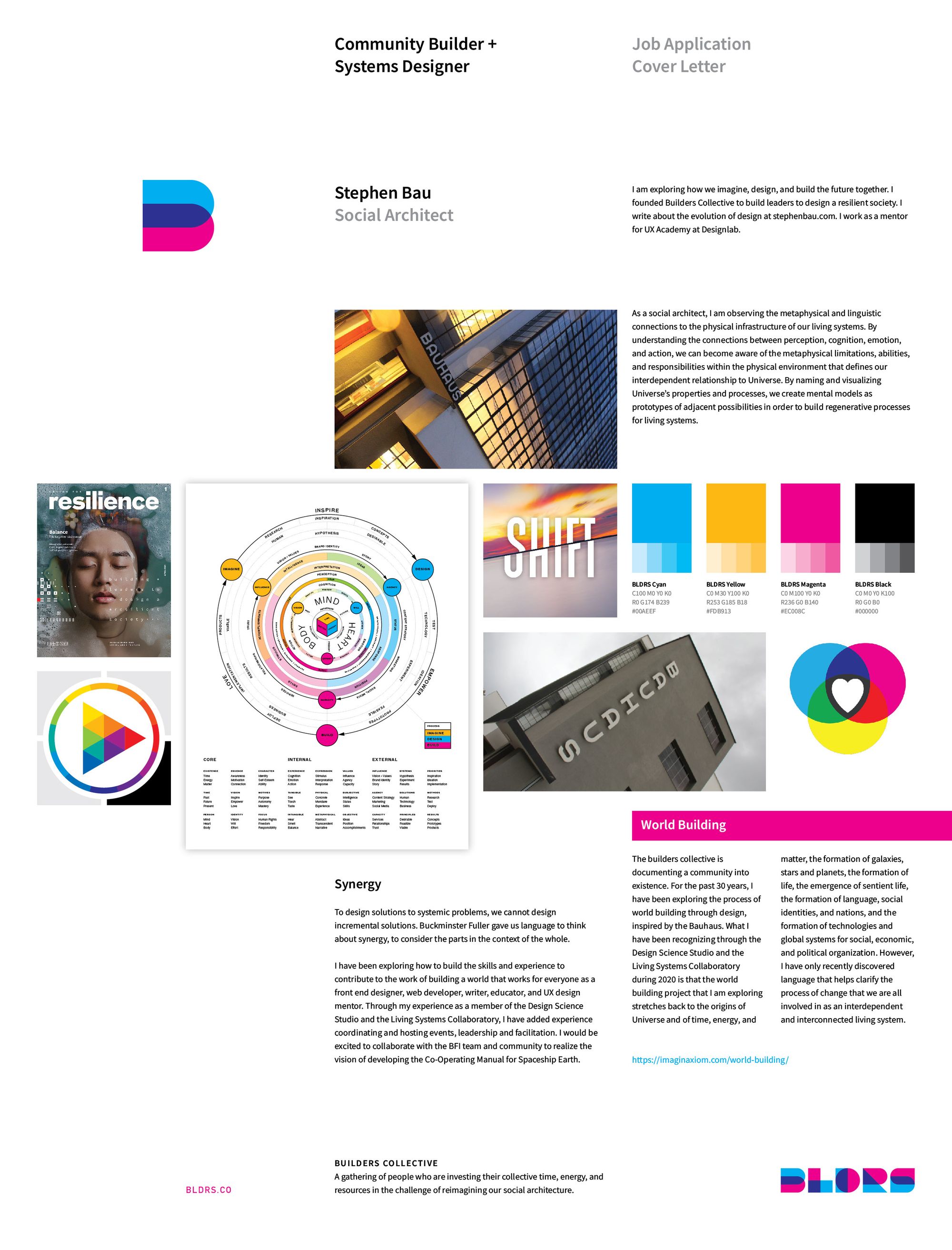 ---
Whether I earn the title and position in the Buckminster Fuller Institute or not, Community Builder & Systems Designer for the Co-Operating Manual for Spaceship Earth is already an identity that I aspire to and that I am trying to live into.
It is not as short as trimtab, but it helps me to visualize the process as something much more tangible.
"We are called to be architects of the future, not its victims. [The challenge is] to make the world work for 100% of humanity in the shortest possible time, with spontaneous cooperation and without ecological damage or disadvantage of anyone."
---
Call me a social architect.